Kakanin is an umbrella term for gluten free Filipino desserts made from sticky rice and coconut. Historically, kakanin were used as a special offering to the gods. There's also a belief that kakanin are prepared to symbolically maintain close relationships between families and friends due to their sticky nature. Check out this article if you'd like to learn more about the history and regional nuances of kakanin.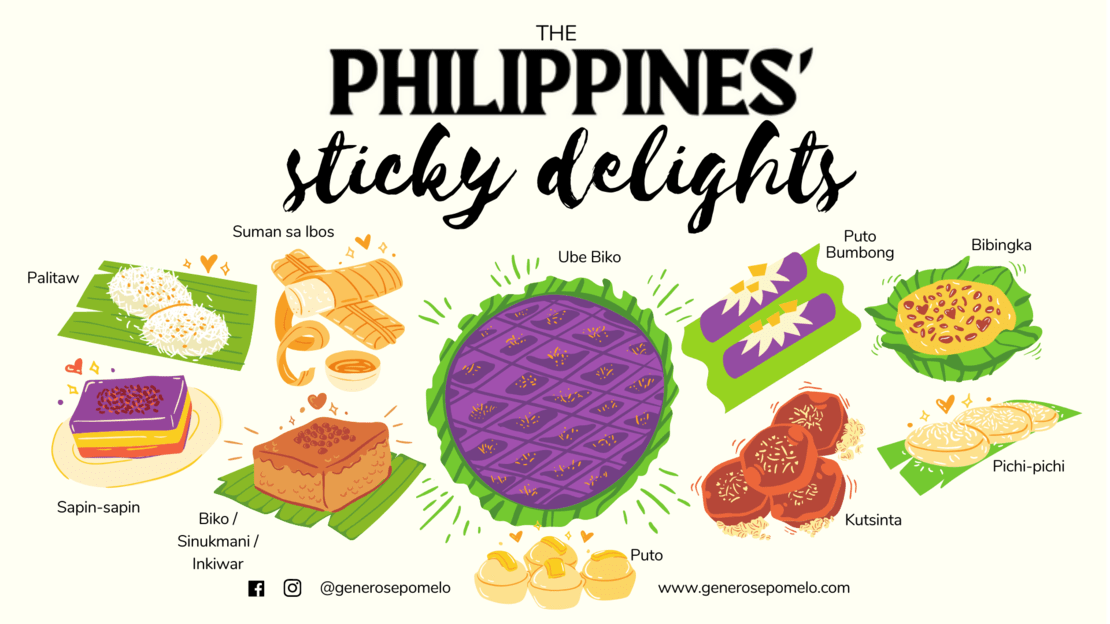 While most types of kakanin are made with a combination of sticky rice and coconut, some can also be made from cassava, taro, corn or millet. The desserts rarely use wheat flour. So many types of kakanin and other Filipino desserts are great for celiacs! Milk products like butter, canned milk, or cheese are used occasionally, but many are vegan or dairy free. As long as you like chewy or sticky textures, you're in luck.
Below you'll find a list of some of the most popular types of kakanin. We've only included the types that are usually gluten free, and we'll specify if gluten or milk allergens might be included in some recipes for each type. The provided recipe links are always gluten free.
Biko
Cake made from sticky rice, coconut milk, and dark sugar. Often flavored with pandan. Usually topped with latik and coconut caramel. Latik are coconut curds made by cooking full fat coconut milk until it separates and caramelizes. The flavor of latik is toasty, coconutty and sweet.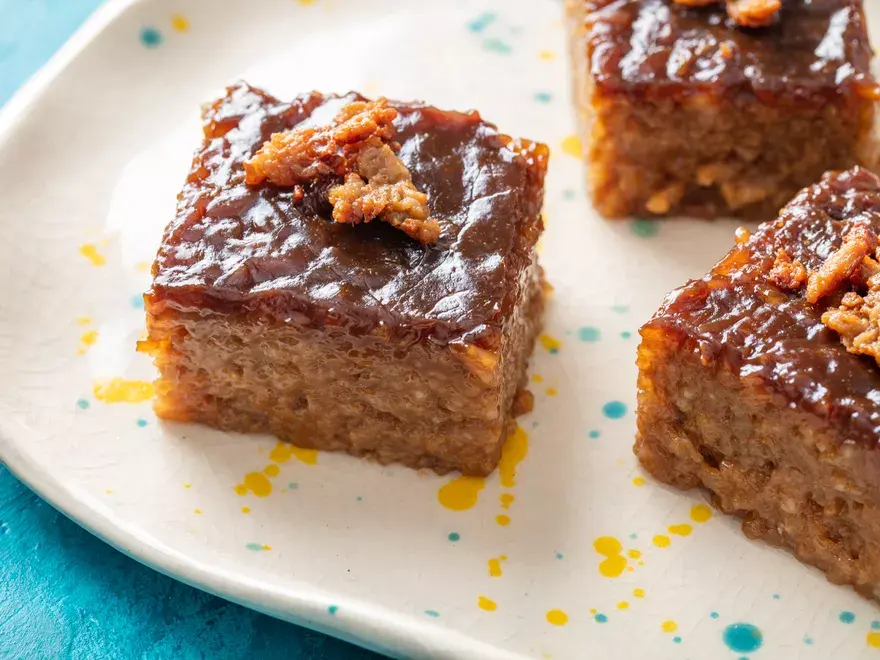 Puto
A small steamed cake that is not very sweet. Traditionally made with fermented rice, but nowadays rice flour or wheat flour is used instead. Often flavored with pandan, ube, cheese, or salted duck egg.
Some versions contain gluten, so check ingredient lists! The traditional recipe is gluten free.
May contain butter or milk in recipe.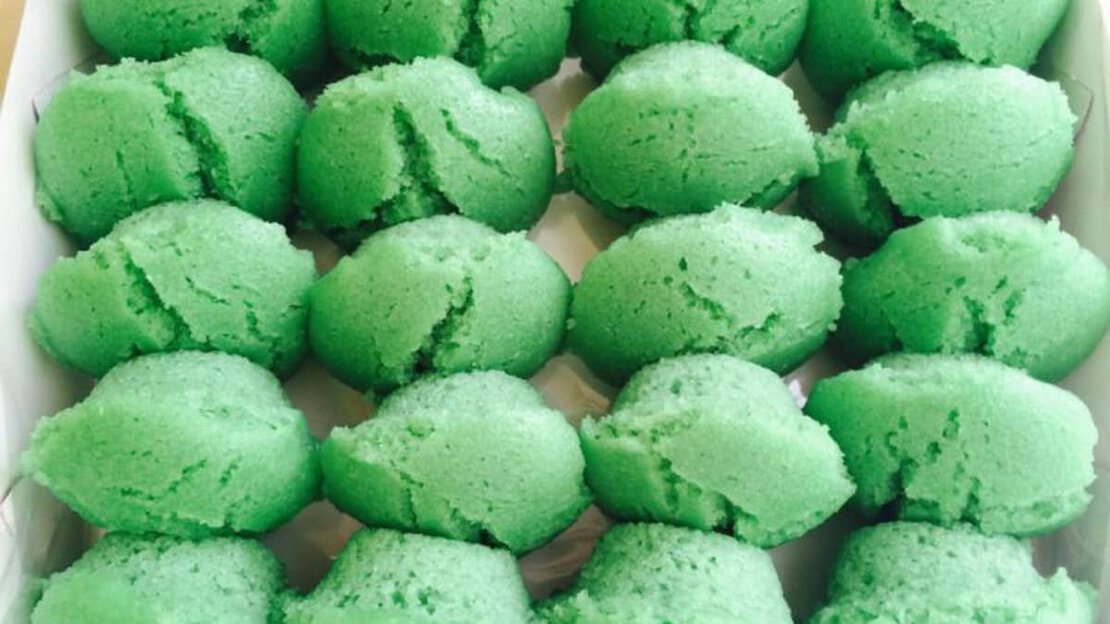 Pichi-pichi
Made with grated cassava and flavored with pandan, then rolled in grated coconut and cheese. Lye water is included in the recipe for chewiness.
Gluten free
Includes cheese as coating, but this could be easily left off to make it dairy free.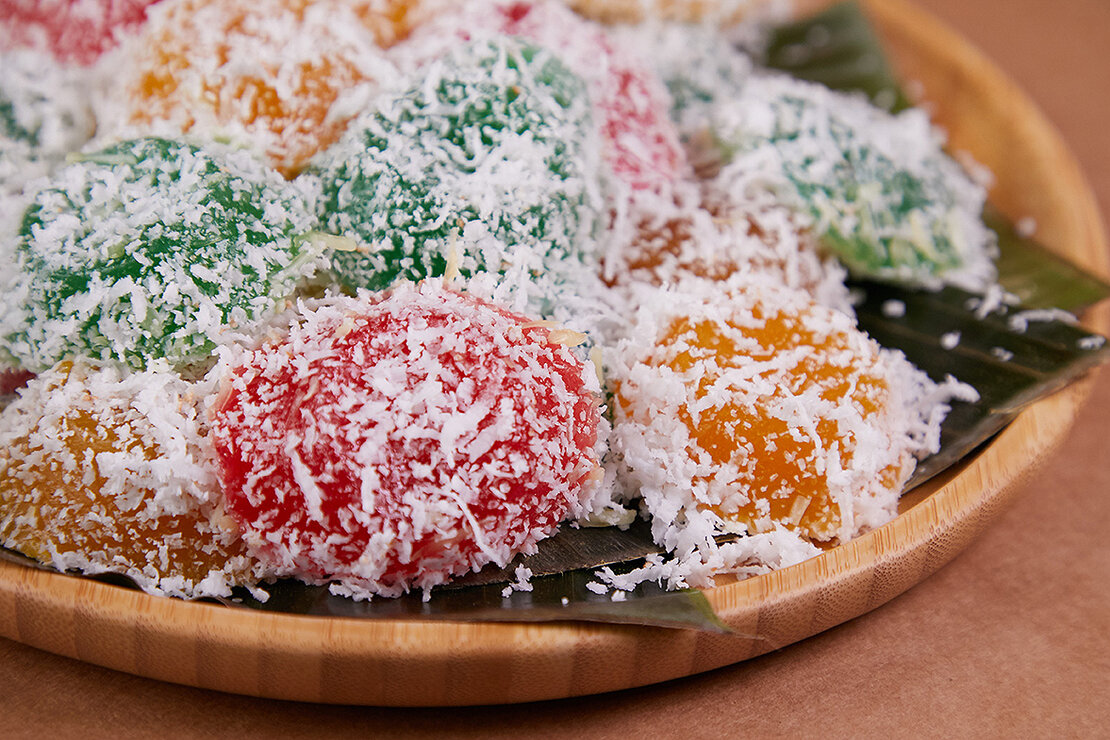 Bilo-bilo
Chewy rice balls, served in sweet coconut milk with fruits and sago or tapioca pearls. Could be considered a style of halo-halo.
Gluten free
Dairy free if coconut milk is used.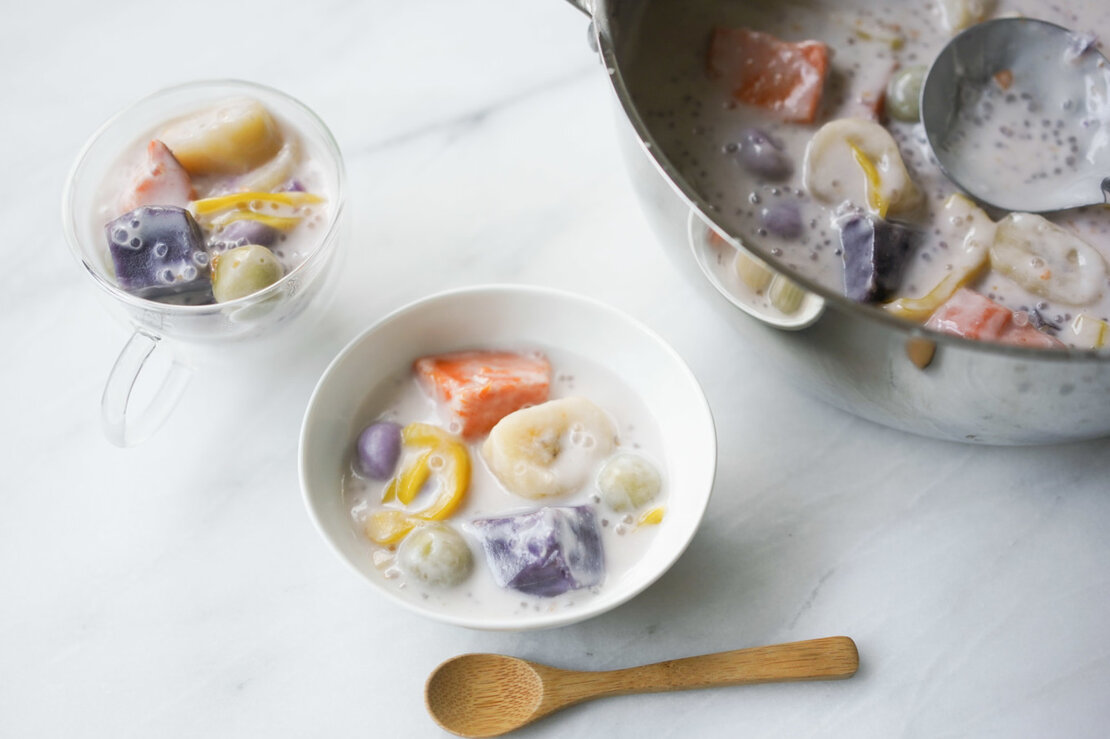 Palitaw
Dough made of sticky rice flour and water is boiled, then coated in a mixture of coconut, sugar, and toasted sesame. Often served at New Year's celebrations.
Suman
Sticky rice or sticky rice flour is mixed with salty-sweet coconut milk and steamed in a banana or palm leaf. Often served with a coconut caramel sauce or latik topping.
Gluten free
Dairy free, but make sure that no butter was used to coat the leaf when steaming.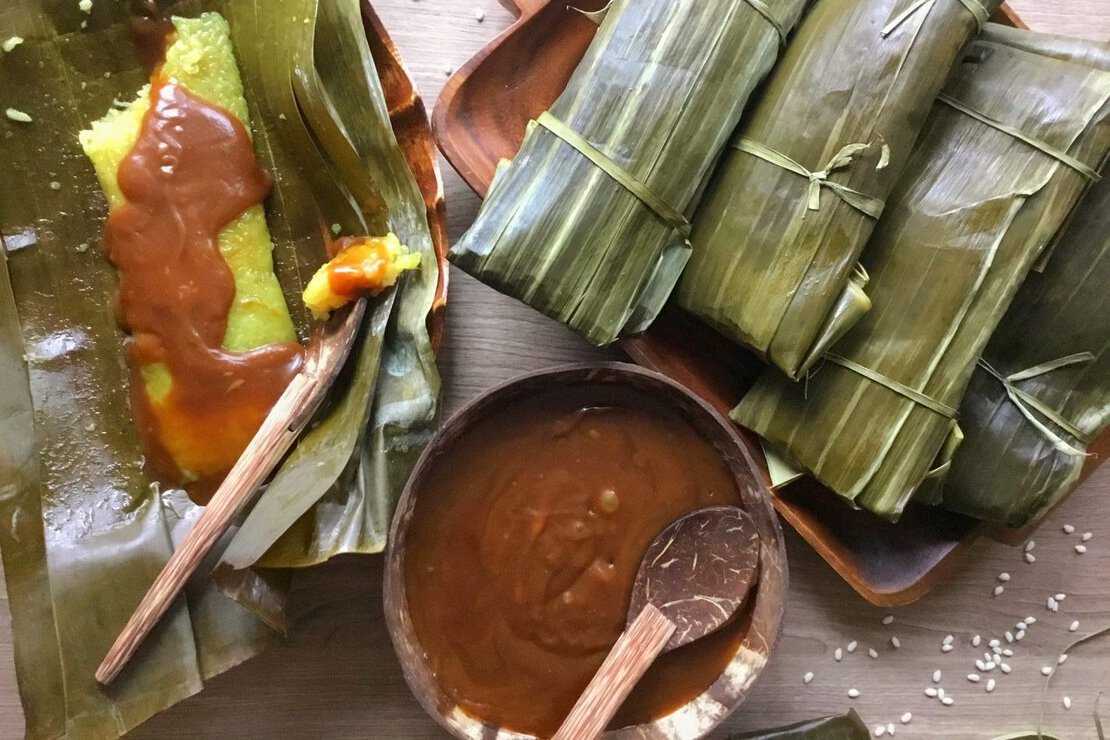 Champorado
A rich chocolate rice pudding made with sticky rice, milk, and cacao tablea . It's often served for breakfast with a side of salted fish to balance the sweetness.
Gluten free
Usually made with milk, but can be made dairy free by subbing coconut milk.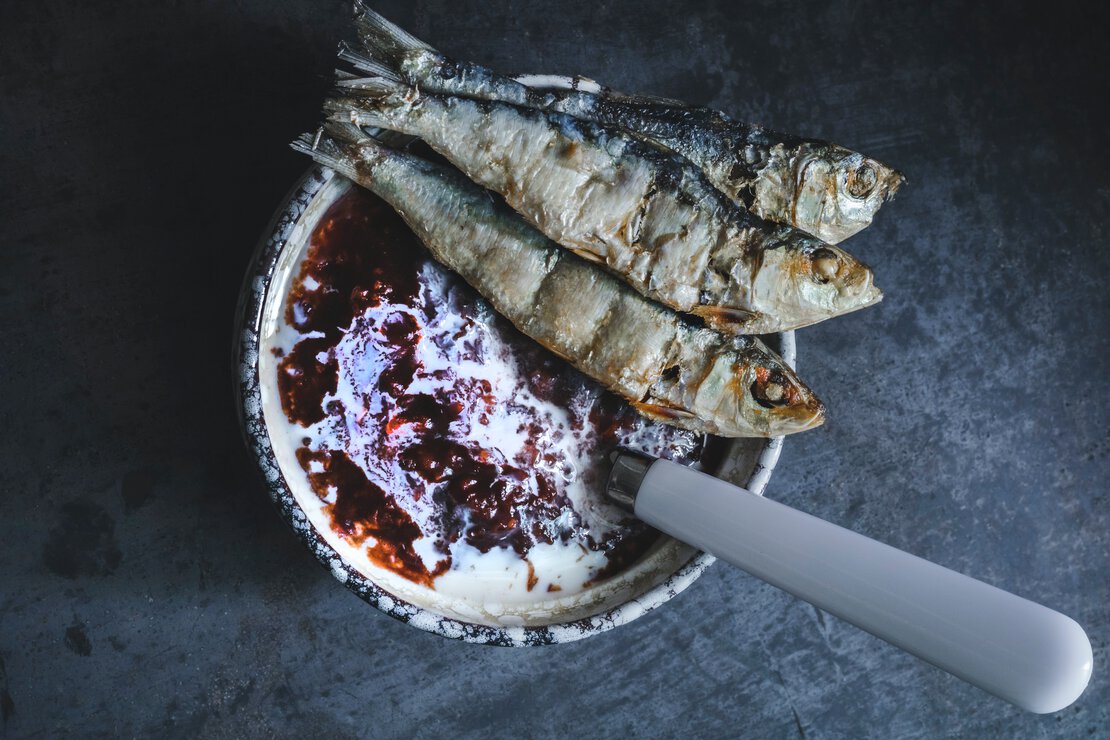 Binutong
Sticky rice is mixed with salted coconut cream and tied into banana leaves before being boiled. Served warm with sugar and eaten out of the banana leaves with a spoon.
Bibingka
Traditionally uses blended fermented sticky rice and coconut milk, which is made into a cake and cooked over coals in a terracotta pot. Nowadays it's made with rice flour, and sometimes wheat flour. The texture can range from fluffy to dense. Bibingka is eaten for breakfast and is popular around Christmastime in the Philippines.
Gluten free traditionally, but some modern versions include wheat flour.
Dairy free traditionally, but modern versions often include milk and butter. Use coconut milk for an authentic sub.
Kalamay
Made from sticky rice flour, coconut milk, and palm sugar. It's a sticky snack similar to mochi. Ube is a popular flavor, and most varieties are topped with latik.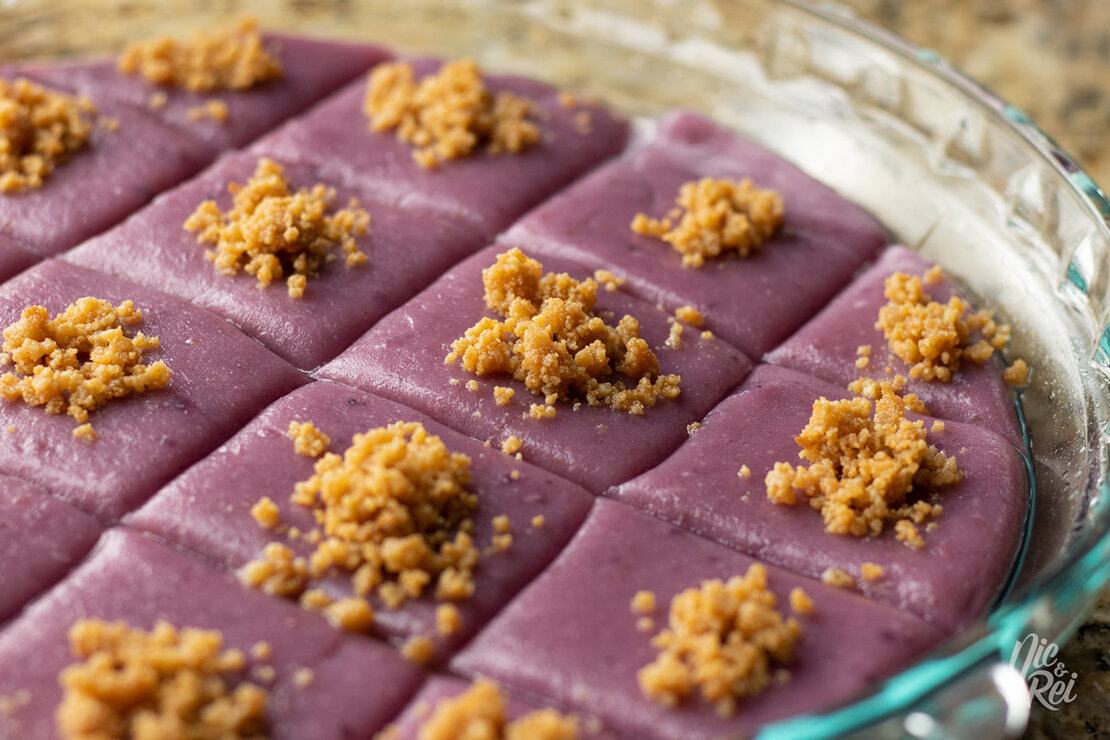 Maja Blanca
Coconut pudding made from coconut milk and cornstarch. The texture is gelatinous and creamy, similar to panna cotta. Corn kernals are often included in the recipe, although ube and pandan varieties are also popular. Served with a topping of latik.
Gluten free
Dairy free traditionally, but most modern recipes include milk. Use coconut milk for an authentic sub.
Nilupak
Pounded cooked cassava is mixed with sugar, butter and sweetened condensed milk to create a chewy sweet. This is topped with cheese or coconut to serve. Unripe saba bananas, ube, and sweet potatoes can be used instead of cassava. Modern version often use shredded cassava for a less strenuous process.
Gluten free
Contains dairy. Use vegan butter and coconut-based sweetened condensed milk for dairy free.
Inutak
Glutinous rice flour is cooked with coconut milk, sugar and egg until it's thick. The mixture is then spread into a pan and topped with coconut cream. This is baked until the top chars lightly. Often served with ube ice cream or ube jam.
Gluten free
Dairy free, but make sure the baking pan wasn't brushed with butter.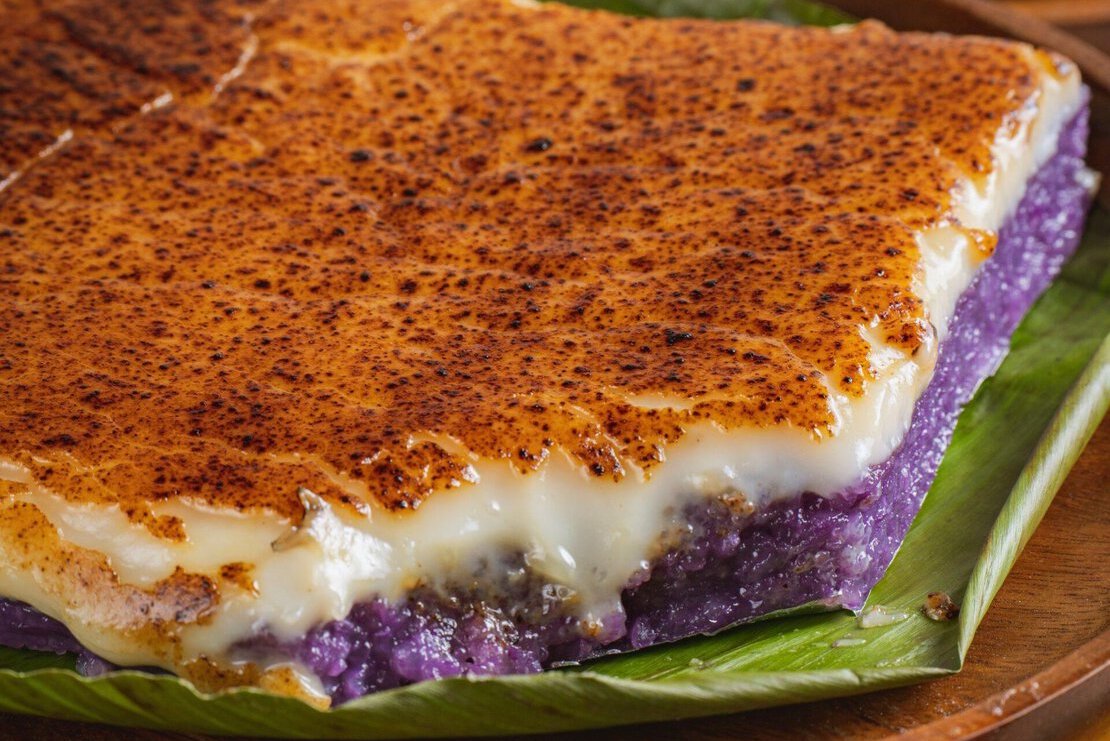 Carioca
Deep fried balls made of sticky rice flour dough are coated in a caramelized sugar syrup. Usually served on a stick.
Gluten free, as long as the fryer is dedicated GF.
Dairy free
Sapin-sapin
A layered dessert made with sticky rice flour, coconut milk, and sweetened condensed milk. The purple and yellow layers are flavored with ube and jackfruit. The white layer is coconut flavored. Served topped with latik.
Gluten free
Dairy free if coconut-based sweetened condensed milk is subbed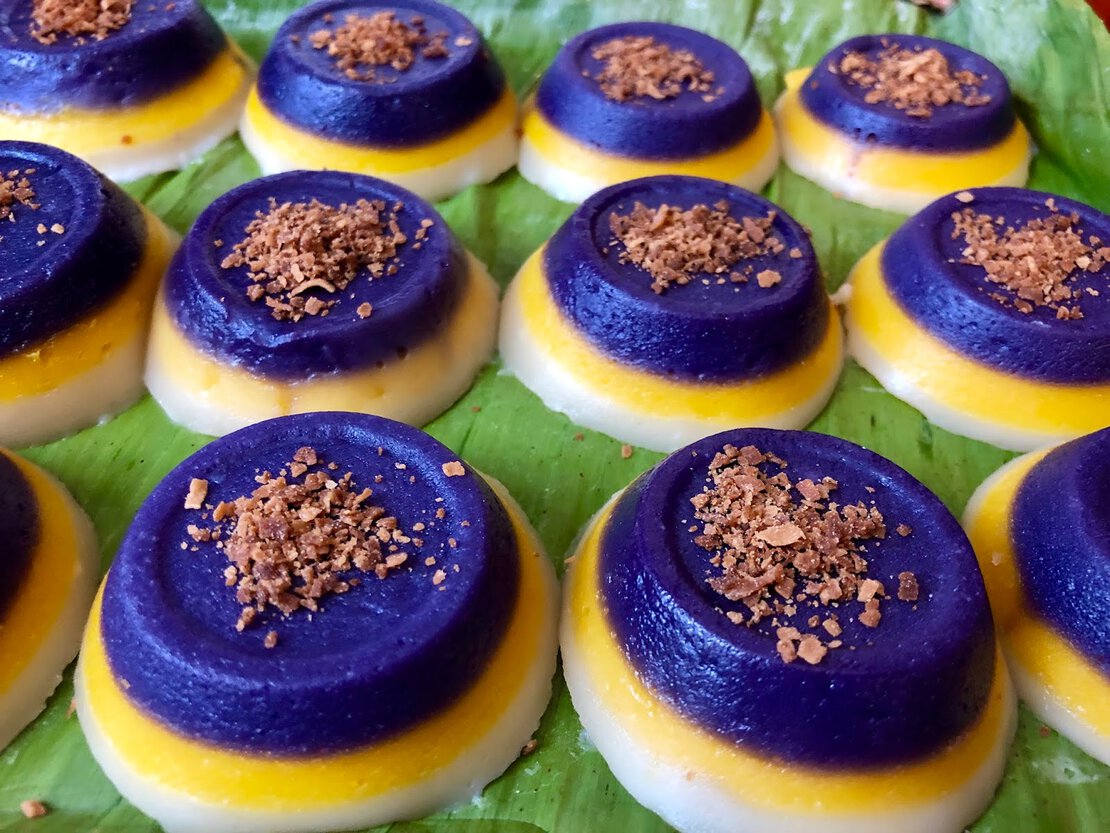 Tikoy
A sticky rice flour and brown sugar cake that is steamed and sometimes fried. The origin of the dish is Chinese, but there are many Filipino versions. Served during Chinese New Year.
Gluten free
Dairy free. Includes eggs in fried version.
Buchi
A Filipino version of the Chinese pastry called Jian Dui. Balls made from sticky rice flour are filled with ube halaya or cheese, coated in sesame, and deep fried. The golden balls are crisp on the outside and chewy on the inside.
Gluten free, as long as the fryer is dedicated GF.
Dairy free if filled with ube halaya rather than cheese.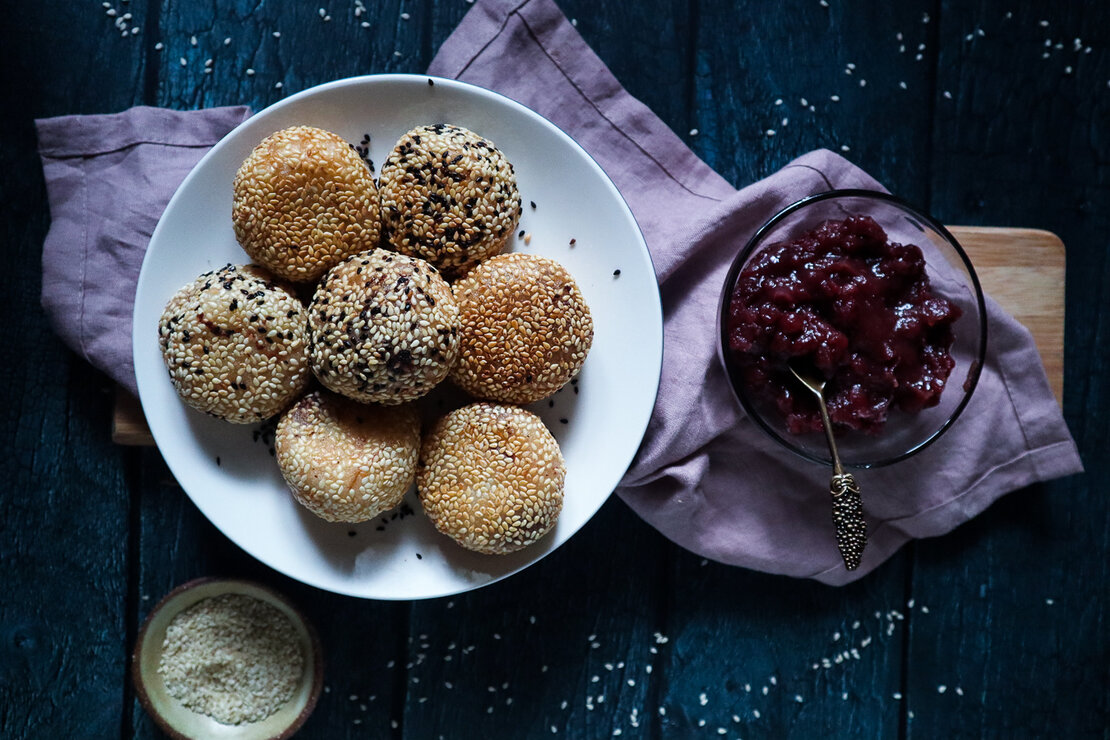 Lokot-lokot
Rice is pounded until a paste with water and brown sugar, then poured into a fryer through a device to make thin strands. The fried strands are formed into different shapes and are done when golden brown. Commonly served for Eid-il- Fitr.
Gluten free, as long as the fryer is dedicated GF.
Dairy free