Shrouded Summit Belgian White Ale is a malted millet, buckwheat, and rice-based beer made by Ghostfish Brewing in Seattle WA. I appreciate that this brewery gives credit to their malt sources and specifically lists where they source each of the malted grains used in their brewing process. In this beer, they've used millet from Grouse Malting Co, buckwheat from Skagit Valley Malting Co, and rice from Eckert Malting Co. For gluten free home brewers, this could be helpful information when sourcing malts and identifying which flavors you enjoy as a base.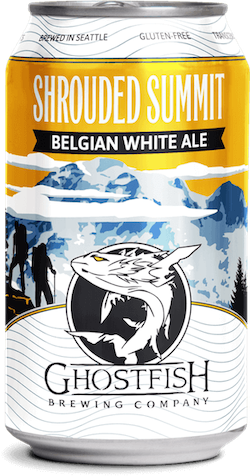 This beer is sold in 12 oz cans and has an ABV of 4.8% with an IBU of 20. I find that this brand is relatively easy to find within the US where gluten free beers are stocked, although not quite as easy to find as gluten-removed beers. Many people with celiacs disease or severe gluten intolerance prefer gluten free beer that is brewed with entirely gluten free products, instead of brewers that use enzymatic treatments to remove the gluten from a traditionally brewed beer.
The flavor of this beer is light and refreshing, but still flavorful enough to be interesting. The juniper, orange peel, and coriander are fresh and wintery and the beer is not overly bitter or too sweet. It's just lightly sparkling and is best very cold. It's my second favorite beer from Ghostfish, after their Watchstander Stout.
Best Gluten Free Beers is an incredible resource for learning more about gluten free beers. They wrote a more in-depth review of this beer (including a cool can trick!) and I recommend checking them out.