Violife is a Greek company that makes vegan cheese products. All of their products are free from gluten, animal products, nuts, and soy. They all have vitamin B12 added, as this is a common deficiency for vegans. Their full line is also kosher pareve/parve certified.
Violife's Mediterranean Style Grill Me Cheese currently costs about $6 in the NYC area. It can be found at Whole Foods and Sprouts in the US. A 7 oz container contains 7 servings at 70 calories, 4g fat, and 390 mg sodium each. Here's the full list of ingredients: filtered water, starch (potato, corn & rice), coconut oil, food starch - modified (potato), salt (sea salt), lentil protein, glucono delta lactone, flavor (vegan sources), olive extract, beta carotene (color), vitamin B12.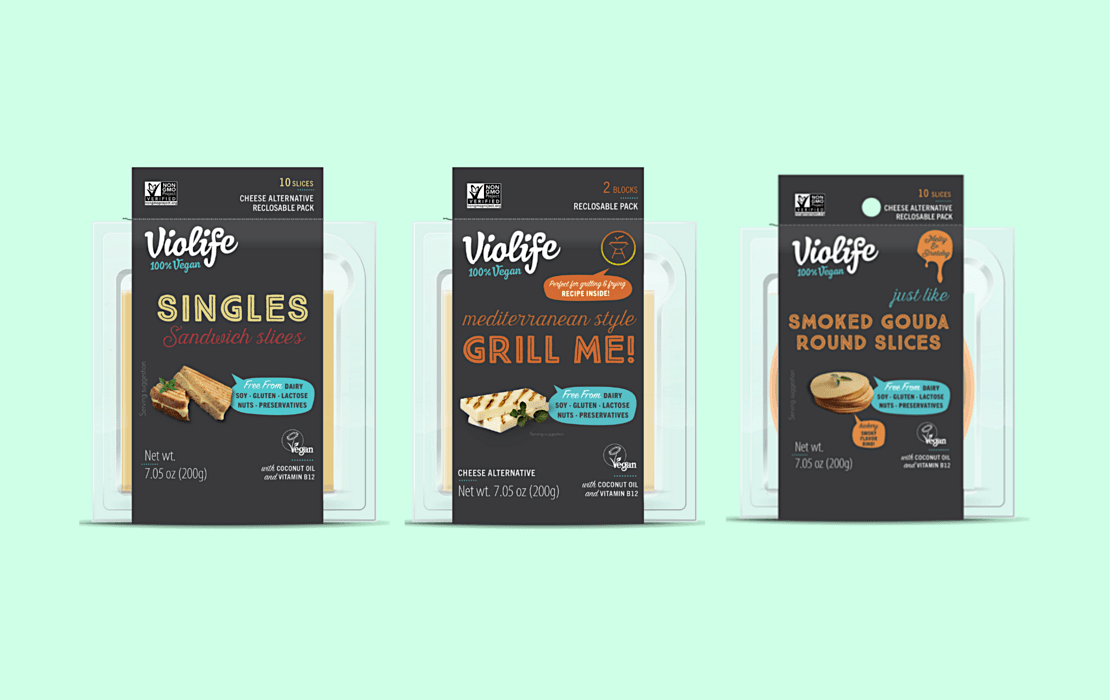 This cheese is clearly aiming to replicate halloumi, which I've honestly never had. But I have seen lots of photos and recipes with halloumi, so I have a general idea of what it's texture and reaction to cooking should be. Upon first opening the package, I have to say that this cheese texture is very strange. It smells a bit like Violife's parmesan-style cheese (which is strong), but luckily this halloumi scent is slightly milder. It's not really a cheese you can snack on without warming. I don't have a grill, so I went ahead and pan fried the cheese with a touch of oil, which is what the package recommended if a grill isn't available.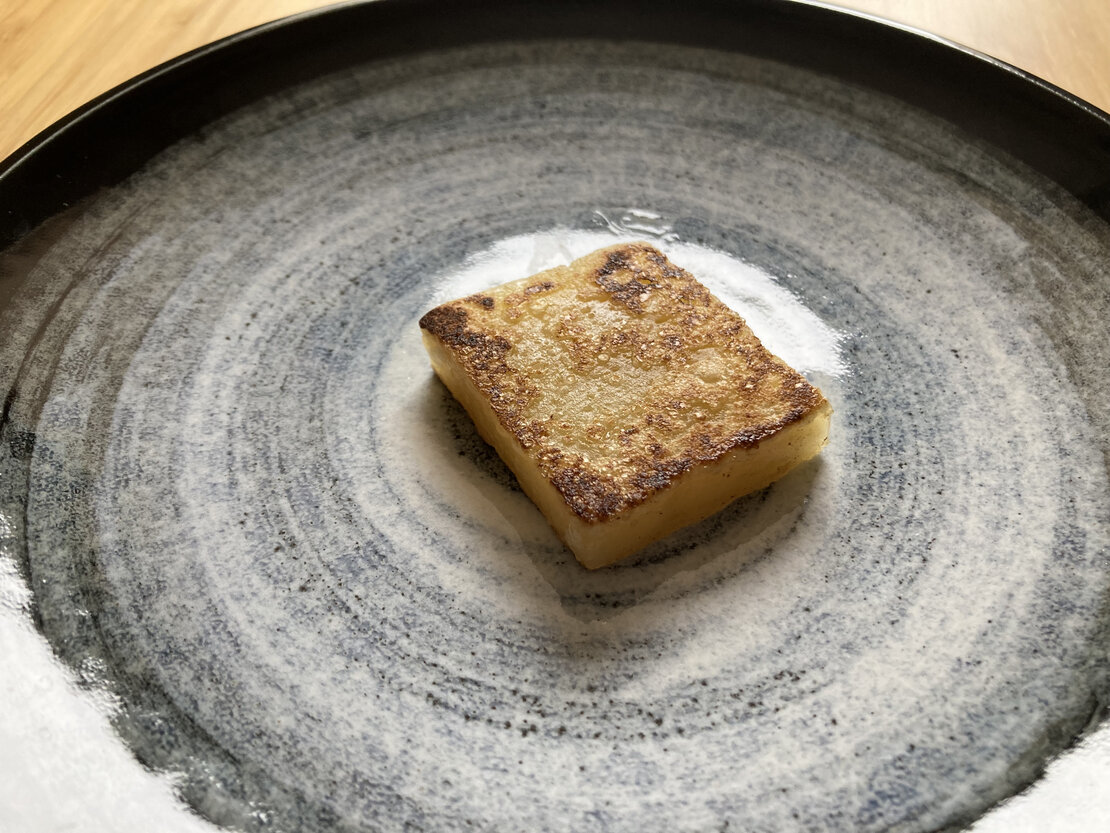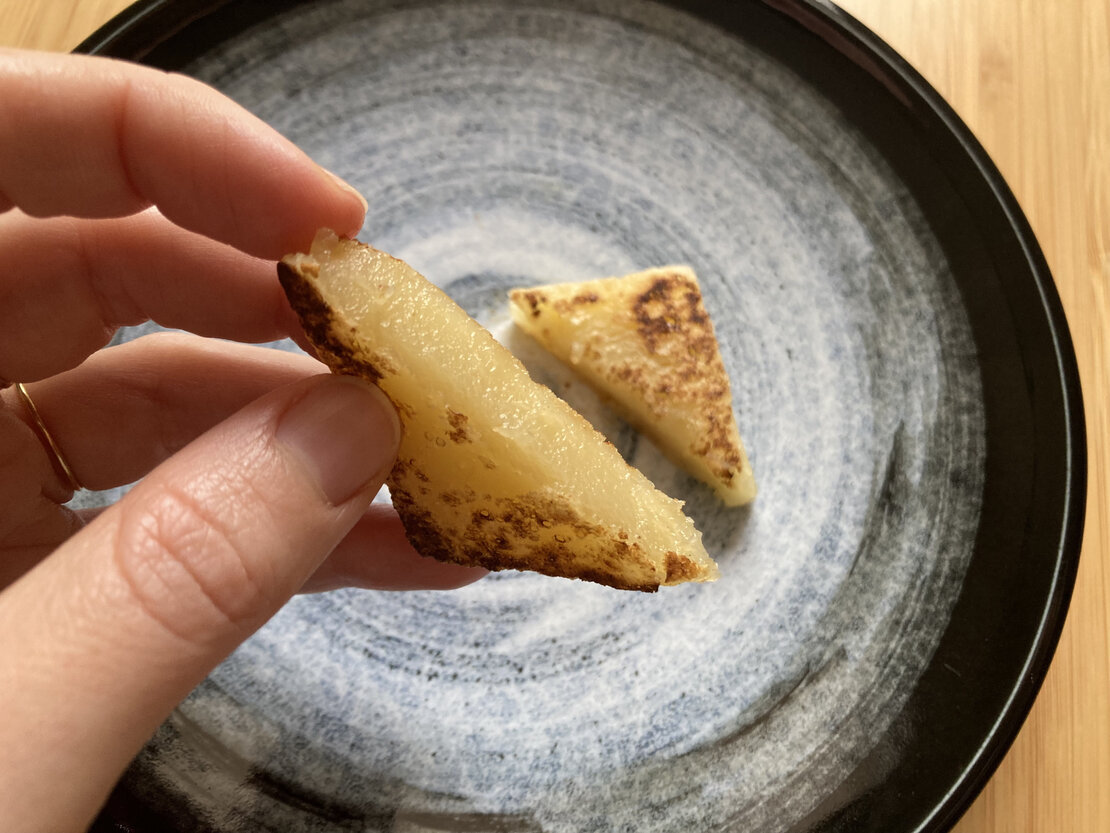 The Good
This cheese browns really well and forms a nice crust.

Has some nice mild tang and springy-ness with subtle cheesy aftertaste.
The Bad
Not salty enough for my taste.

Texture doesn't seem at all similar to halloumi. It's more of a mix between sliced cooked polenta and vegan cheese.

Sheets of cheese are sliced too thinly to maintain a firm texture on the inside when cooked.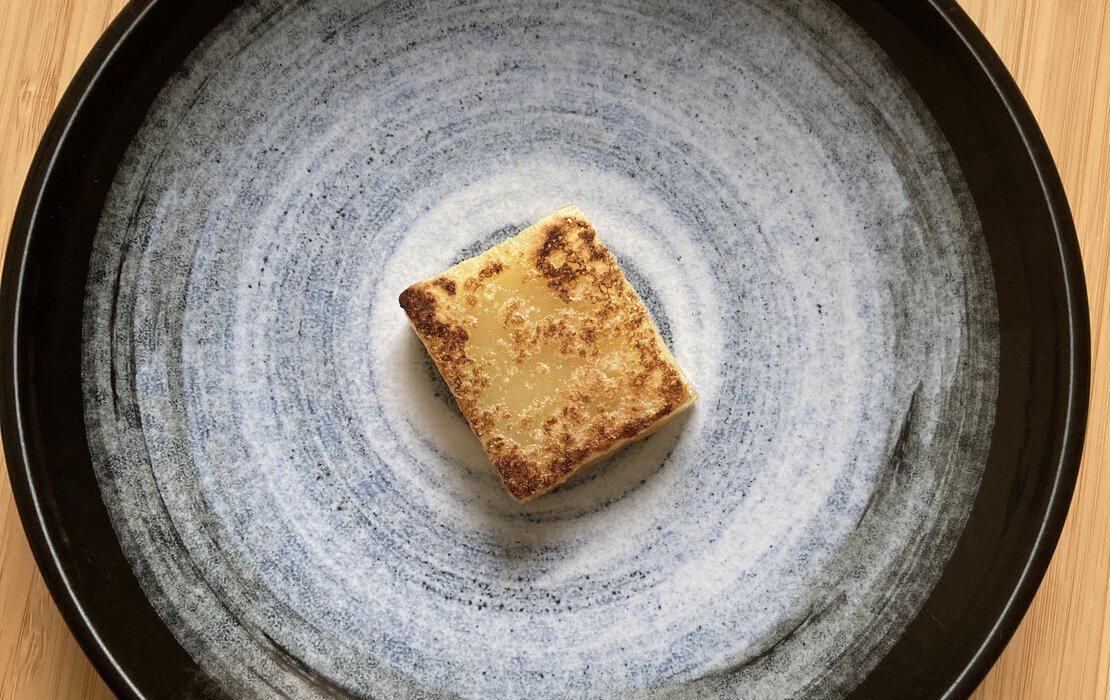 I don't know what dairy-based halloumi tastes like, but this missed the mark for me. I really enjoy the rest of Violife's cheeses (especially the feta!), so I was surprised by how much I didn't enjoy this. The texture was almost plastic-y and chewy but maybe that's the closest vegan cheese can get to halloumi? Or maybe this is just how halloumi tastes and I don't like it very much. I did enjoy the crust and it was an interesting experience to fry some vegan cheese, so it gets points for novelty! Would love someone else to weigh in that's had both this cheese and dairy-based halloumi.
If you want to give Violife's Mediterranean Style Cheese a go, you can buy it here.