Lao Gan Ma (老干妈) is the most popular chili sauce in China, and it's gained a massive following around the world. It's addictively spicy, roasty, crispy, and full of savory umami flavor, so it's the perfect topping for tons of different foods. Chili oil fans will be happy to know that most varieties of Laoganma are gluten free! There are quite a few different types, so we'll list their ingredients and a description for each below.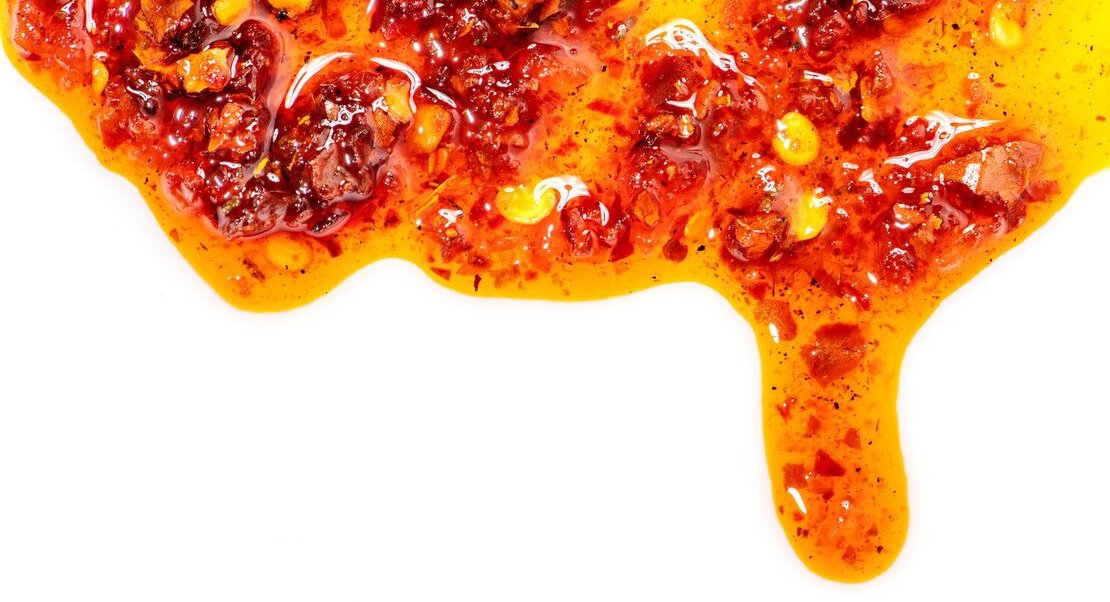 Entrepreneur Huabi Tao (陶华碧) first sold her chili sauce in 1984 in Guizhou province, and started the Lao Gan Ma Special Flavor Foodstuffs Company in 1997. Lao Gan Ma means 'Old Godmother'. Huabi Tao is now a billionaire and Lao Gan Ma distributes their sauces worldwide. These days you can find the sauce in pretty much any Asian food store, or you can buy it online. Purchasing Laoganma at your local store will likely be the cheapest option.
Varieties of Lao Gan Ma
Now we get to the ingredients. Lao Gan Ma makes 12 different products, but here we're focusing on their 8 chili sauces. The only variety of Lao Gan Ma chili paste that contains gluten is the Spicy Bean Paste, which is a similar product to doubanjiang. Every other variety doesn't contain any gluten ingredients.
Most varieties contain soy, MSG and lots of preservatives, so this isn't a good choice if you're sensitive to any of those ingredients. If that's the case, you can make your own chili crisp instead. We'll include the full ingredients list for each sauce below. Recipes can change slightly and tend to vary by region, so please be sure to read the ingredients of the product you buy before consuming.
Spicy Chili Crisp
This is the most popular and multipurpose variety. It's a solid choice to serve on eggs and other simple foods that could use a crunchy, spicy kick.
Ingredients: soybean oil, chili, onion, fermented soybean (soybean, water), monosodium glutamate, salt, sugar, pepper powder, sulfur dioxide, and sodium sulfite.
Chili Oil with Black Beans
A fan favorite. Interestingly, it doesn't contain black beans, but instead soy beans! Rich, tasty, full of umami and textural contrast from fermented black beans. Great on veggies and soft tofu.
Ingredients: soybean oil, fermented soybeans (soybeans, water, salt), chili, MSG, sugar, sulfur dioxide, sodium sulfite.
Buy Chili Oil with Black Beans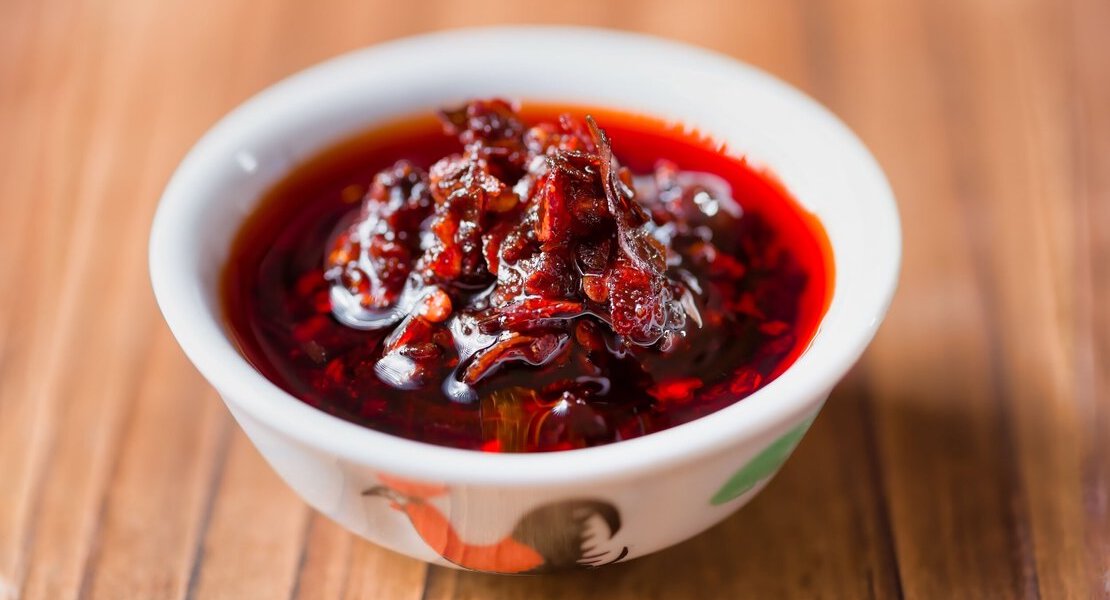 Fried Chili in Oil
Similar to Spicy Chili Crisp, but contains peanuts. The peanuts do not remain crisp, so you may be better off adding peanuts to the regular Spicy sauce if you're looking for a peanut-y crunch.
Ingredients: soy bean oil, chili, peanut, MSG, salt, sugar, prickly ash powder, sulfur dioxide, sodium sulfite.
Hot Chili Sauce
Another twist on Spicy Chili Crisp, this time with salted rutabaga chunks, bean curd, and peanuts. Some people love the many textures and flavors, but others find them overwhelming and think that the classics are more balanced.
Ingredients: soybean oil, rutabaga, chili, peanut, beancurd, MSG, salt, sugar, prickly ash powder, sulfur dioxide, sodium sulfite.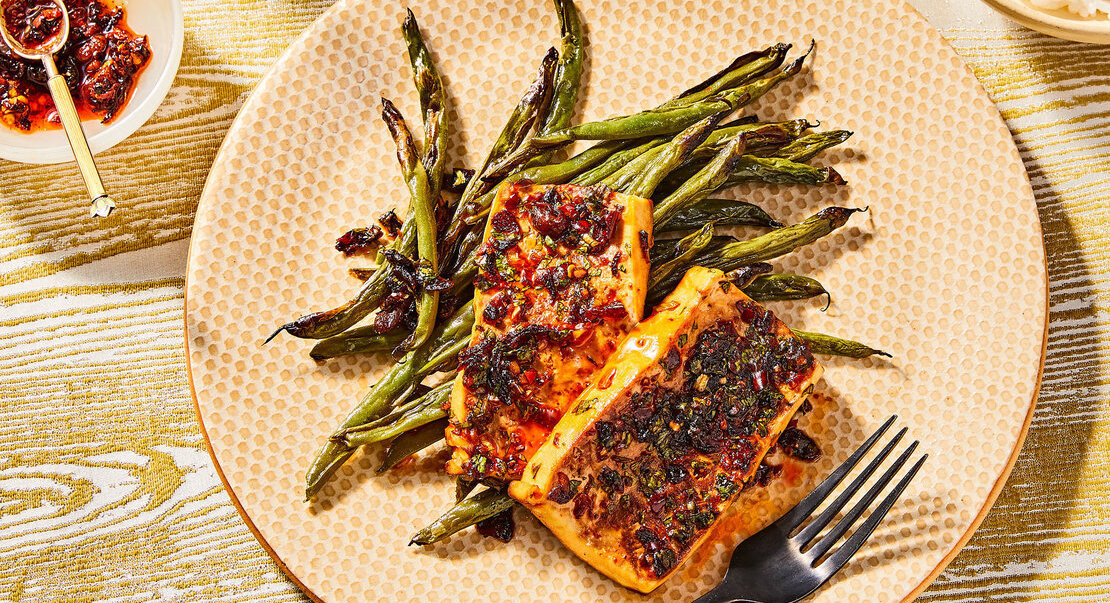 Pickled Chili
This version is said to be similar to sambal oelek, but a bit chunkier in texture. It's a thin, watery sauce with chunks of chili. Use in stir-fry, marinades, and dipping sauces.
Ingredients: chili, water, salt, MSG, potassium sorbate.
Chili Mushroom Sauce
This sauce combines Fried Chili Oil sauce with mushrooms, so the sauce has mild mushroom flavor and interesting texture in the form of peanuts, mushrooms, and fermented soybeans. Use on congee and rice.
Ingredients: soybean oil, mushroom, chili, broad bean paste (broad beans, water), fermented soybean (soy bean, water, salt), scallion, ginger, garlic, soybean, peanut, MSG, salt, sugar, prickly ash powder, sulfur dioxide.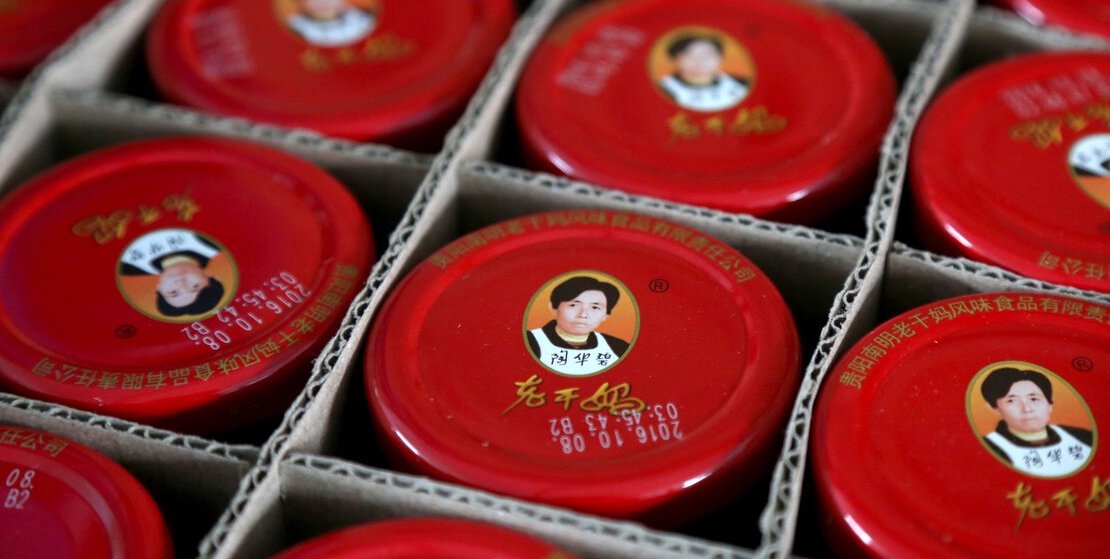 Tomato Chili Sauce
Not easy to find these days, so they may have discontinued this sauce. It's thin and slightly sour tasting, with a tomato-y base. Often used in sauce recipes wherever you would use ketchup. Adds an interesting kick to pasta sauce.
Ingredients: tomato, chili, garlic, MSG, salt, sugar.
Spicy Bean Paste - NOT GF
A blended and flour-thickened version of Chili Oil with Black Beans. Basically a style of doubanjiang, which is also not gluten free. Best used in soups, sauces, marinades. Often used in mapo tofu recipes.
Ingredients: soybean oil, sweet bean paste (wheat flour, water, salt), broad bean paste (broad bean, water, salt), chili, MSG, sulfur dioxide, sulfur sulfite.
Don't buy Spicy Bean Paste, because it's not gluten free. This link is only here to be used as a reference.
Recipes That Use Lao Gan Ma
Now that you know which Lao Gan Ma sauces are GF you can start using it in your recipes! Lao Gan Ma is endlessly adaptable to different types of recipes and a classic condiment option. Great on eggs, rice, tofu, and some even like it on ice cream.